All of our tracts are available for purchase through One Million Tracts. Please note that the order takes place through a separate website. Bezeugen Ministries prints all of its Gospel tract with One Million Tracts, but we are not the same entity. To order follow these steps:
First, go to shop.onemilliontracts.com and click the "Bezeugen" logo.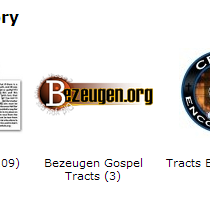 On the page that comes up you'll see three options for Bookmarks, Door Hangers and Gospel Tracts.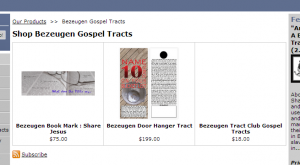 Click on the text for "Bezeugen Tract Club Gospel Tracts".
This will bring you to the order form which looks like: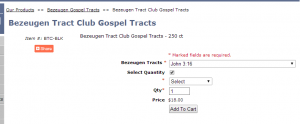 There is a drop down list to select which Gospel tract. By default you are ordering 250 tracts. For large quantities click the "select quantity" and then choose the quantity (up to 5000) from the drop down list. If you want to order multiple of that quantity, then type that number in the Qty field. For instance to order 15,000 tracts you would select 5,000 from the drop down and then enter 3 in the Qty field. Normally Qty should remain 1 and large quantities should be selected from the drop down to get the best price. For instance if you select 1000 from the drop down list and 5 in the Qty field the total would be nearly twice the price of selecting 5000 from the drop down and 1 from the Qty field.
To place your order click here to get started!
If there are other questions about the order process you may contact One Million Tracts directly via their website.
Select Tract: